Main Navigation Menu:

---
Walls of Jercicho Page Navigation Menu:

---
Intro
The Walls of Jericho comes in at #2 on my list of favorite hikes. The Walls of Jericho is a tract of land located about 25 miles north of Scottsboro,AL. Totalling over 21,000 acres, The Walls is one of the most incredible places to visit in Alabama. The Walls were once hunted by Davey Crockett. For years it was privately owned, now it is owned by the Nature Conservancy and open to the public. It lies in the heart of the Southern Cumberland mountain range. It also lies in an area that has the largest number of caves in the state of Alabama. It is one of the best hikes in the North Alabama/Southern Tennessee area.
---
Trail Head
The trail head is located just off Hwy 79. (There is another trail head on the Tennessee side I hear, but I have no idea where it is and how it connects to the trail).

To access the trail heads: The trail head is right there at the parking area. You can't miss it.
---
Difficulty
This is a very physically demanding trail. If you are in average physical condition, like most folks, you will make it fine, but it's going to wear you out. The elevation difference is quite significant, so the whole hike back up the trail is going to be up a steep hill and it will be physically demanding. Also, there are some areas where the footing can be tricky. Just remember to watch your step, bring plenty of food and water, and BE CAREFUL! Although the trail is physically demanding, it's worth it!
---
Hiking the Trail
You will begin your hike at the top of a mountain basically. Your hike will take you 3.5 miles down the side of the mountain. There isn't much to tell since the trail is out and back. Just be prepared to hike for about 6 hours. Hydrate yourself the day before, and bring plenty of water. You will not have any cell phone reception so keep that in mind. Here's how you will know you reached the end... You will see this: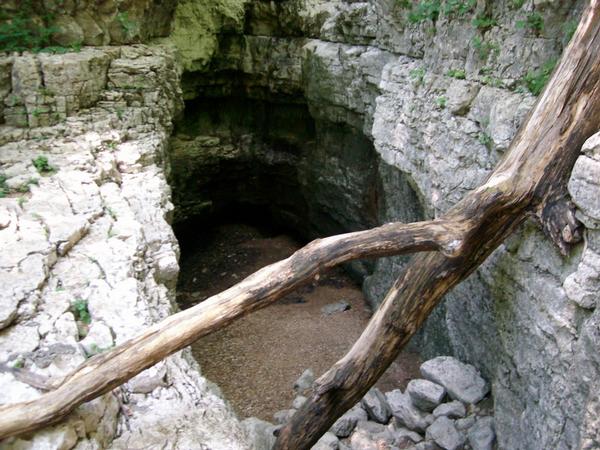 I'm adding this photo here so that you don't make the same mistake some have done and not reach the actual end. When you get near there you will see a creek, and a pool of water. Continue a little further and then you will see the end. I suggest packing plenty of snack food because you will need the calories. Keep in mind that once reaching the bottom you will have a 3.5 mile hike back up the mountain. It will be demanding and tiring. So pace yourself and stop and rest so that you don't over do it. Oh... and DON'T FALL!!
---
Scenery
You will see great views of mountains, mountain streams, creeks, open fields, rocks,waterfalls, and "The Walls" (that I can't describe, you'll just have to see it for yourself).
---
Trail Maintenance
The trail is very well maintained
---
Facilities
I believe there is a horse trail there. There are no bathrooms. About halfway down the trail is a camping area for tents.